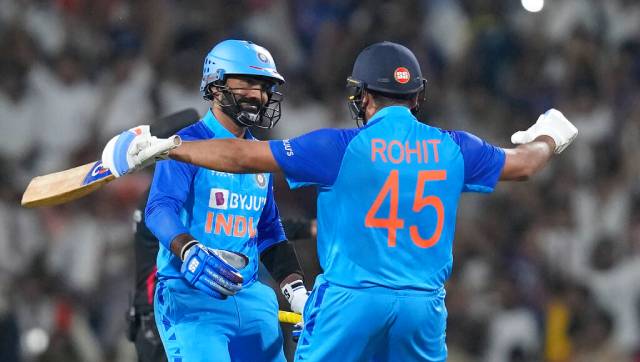 The India men's cricket team played host against Australia last week for a series of T20 international matches. The Men in Blue prevailed, 2-1.
This series is in preparation for the coming 2022 ICC Men's T20 Cricket World Cup that will be held in the land "Down Under" from 16 October to 13 November.
20 September: Australia won by four wickets
India's 208/6 after batting first was not enough to fend off Australia, which tallied 211/6.
The contributions of Hardik Pandya (71 not out off 30 balls), KL Rahul (55 off 35), and Suryakumar Yadav (46 off 25) were negated by the Aussies' balanced output.
23 September: India won by six wickets
The rain-drenched match was limited to an eight-over-a-side affair. India came out on top with 92/4 to Australia's 90/5.
Captain Rohit Sharma led the way with 46 not out off 20 balls as the first batter, lasting the entire contest. His four sixes made him the all-time leader in sixes in T20 internationals.
25 September: India won by six wickets
Batting second, India clawed back from a bad start with Yadav's 69 off 36 and Virat Kohli's 63 off 48 to come out on top with one ball remaining. This conquest tied the record of 21 T20 international wins in a single year.
India will be facing South Africa next for a one-day international series starting on 28 September.