Tesla owner and world's richest person Elon Musk confirmed he was just joking about buying Manchester United.
On Wednesday, Musk tweeted on his 101-million-follower account that:
"Also, I'm buying Manchester United ur welcome"

This immediately created a bomb on social media. Almost 90k retweets and more than half a million likes on Musk's tweet only.
But only a couple hours later, Tesla creator confirmed that this was, in all, just a joke:
"No, this is a long-running joke on Twitter. I'm not buying any sports teams," Musk posted when asked by a user if he was serious about buying the club. "Although, if it were any team, it would be Man U," he added, "they were my fav (sic) team as a kid.
It was fun while it last, and to be fair, it kept the English football club's fans' hopes up for, a few hours.
Not Musk's first joke?
Musk has a history of being unconventional and posting irreverent tweets, making it difficult sometimes to tell when he is joking.
"Next I'm buying Coca-Cola to put the cocaine back in," he tweeted on April 27, two days after Twitter's board accepted his unsolicited offer to buy the company.

Referring back to that post, on Wednesday he tweeted: "And I'm not buying Coca-Cola to put the cocaine back in, despite the extreme popularity of such a move.
Musk's tweets about potential acquisitions have landed him in hot water with U.S. regulators in the past.
In 2018, he tweeted that there was "funding secured" for a $72 billion deal to take Tesla private, but did not move ahead with an offer. Musk and Tesla each paid $20 million civil fines – and Musk stepped down as Tesla's chairman – to resolve U.S. Securities and Exchange Commission (SEC) claims that Musk defrauded investors.
Manchester United's fans were…excited for a while
Red Devil's fans have been mourning and complaining non-stop about the current owner, The Glazer. They believe that it's the American owner's inappropriate strategies in running the club causing it to have been struggling.
The last time Man United won a major title was all the way back to 2015/16, when Jose Mourinho took them to Europa League final and eventually beat Ajax. 
It's been more than 10 years since the club won a league title (2012/13). It's easy to understand why their fans have been so desperate about a change on top board of management.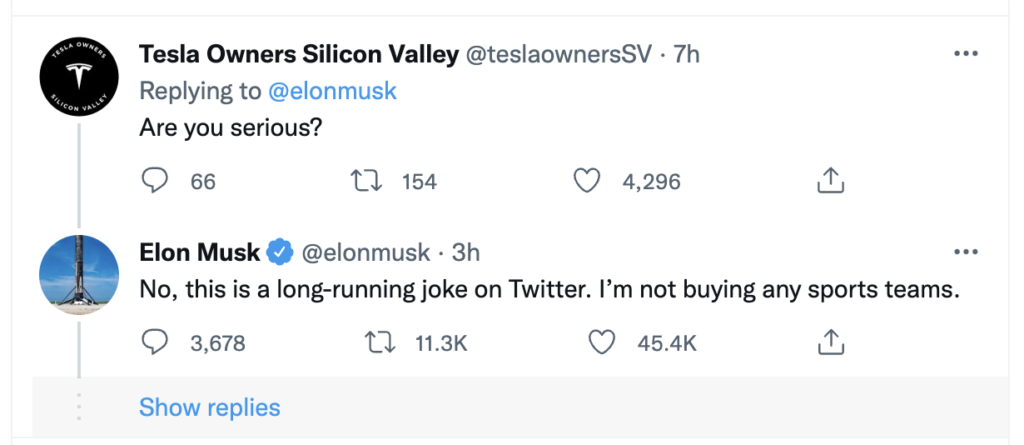 Man United also started the new 2022/23 Premier League season with 0 point after 2 games. They were humiliatingly defeated by Brighton and Brentford by 1-2 and 0-4 respectively.  
Musk is totally capable of buying the English club, but he is not seriously interested in taking over the Glazer, who acquired the club in 2005 for 790m pounds.
The Florida-based Glazer family did not immediately respond to requests for comment.