Cristiano Ronaldo stunned the whole football world with his returning to Man United, 12 years after departing Old Trafford for Real Madrid in 2009.
As one of the immediate effect following his return, Cristiano Ronaldo has already smashed his Man United shirt sale records
In one of the biggest transfers the Premier League has ever seen, the 36-year-old has returned to the place where he made his name.
It took Man United less than half a day of Summer Transfer Deadline (31st August) to execute the deal of bring Ronaldo Back. The 5 times Ballon d'or-winner confirmed with Juventus that he no longer desired to play for them this season.
Bargain or not, but Ronaldo only cost Man United the total of £19m, including add-ons (£13m initial fee, £6m add-ons).
Not having played a single minute for the new club, but it does not stop Ronaldo from breaking another record.
His No.7, which was given to him by Edinson Cavani (and the approval from EPL), has now generated $45m in sales in just 12 hours (according to Spanish side AS).
Fans queued up all day outside Old Trafford to get their hands on the iconic shirt as soon as it was officially stated that Edinson Cavani had given up his number.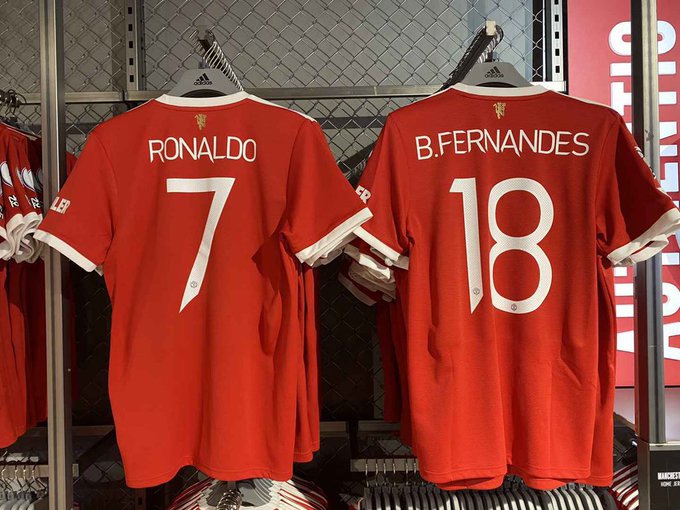 Rumours have it that, the supply now is unable to meet the demand for Ronaldo' no.7 shirt in all United stores.
Even more impressive was the first hour alone of sales best ever full day of global sales for United Direct, the official club merchandise site.
The online shop is run by Fanatics, who announced that Ronaldo became the biggest selling player ever in the 24-hour period that followed his transfer to the Red Devils. Meanwhile, Adidas (online and physical) stores and other big retailers (Pro-Direct, Classic Football Shirts,…have been announcing 'Sold-out' for some specific sizes of Man United Kits this season (printed or without No.7 and Ronaldo's name on them).

Ronaldo could make his second debut for United next week in the first round of Premier League fixtures after the international break.
The Red Devils take on Newcastle at home in what is expected to be one of the biggest crowds the stadium has seen in years.
The Portugal international insisted he was over the moon to back at his old club, where he spent six years before joining Real Madrid for a then-world record fee of £80m