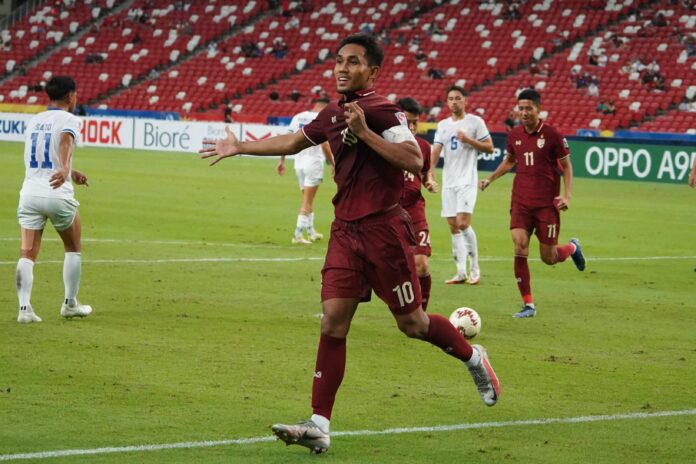 The picture is getting clearer as the AFF Suzuki Cup 2020 heads into the final day of the group stage. Here is our recap of what happened on matchday four.
Thailand, Singapore arrange clash for Group A top seed with wins
Thailand eliminated the Philippines to end the latter's quest to reach the semifinal round for the fifth time with a testy 2-1 victory.
Teerasil Dangda became the all-time goalscorer leader after slotting a goal on each half. He received Theerathon Bunmathan's assist for a booming one-touch at the 26th minute. The BG Pathum United forward then converted a penalty from an Amani Aguinaldo foul inside the box with 12 minutes left of regulation.
Playing at the backfoot for the majority of the match, the Azkals scored at the 57th minute courtesy of Patrick Reichelt. He slid the ball in, taking advantage of a bad clearance coming from a set piece.
Meanwhile, Singapore barely exerted effort in their 2-0 win over hapless Timor-Leste.
The duo of Adam Swandi and Shakir Hamzah put their names on the scoresheet at the fourth and 70th minutes, respectively.
With this pair of results, all that is left to determine on Group A is which between Singapore and Thailand would grab the top seed.
Indonesia vs Vietnam end up goalless
166th-ranked Indonesia soaked up all the pressure and held Vietnam scoreless, ensuring a three-way contest for Group B's two playoff slots.
The defending champs had 21 shots on goal, but only one on target. They also had 70% of the possession with twice more passes than Indonesia. Despite these numbers, none got past the goal line.
This outcome sets up a tense final day on Group B. Malaysia and Indonesia would clash in a winner take all affair. Meanwhile, Vietnam needs to at least draw with Cambodia to lock a spot in the semis.