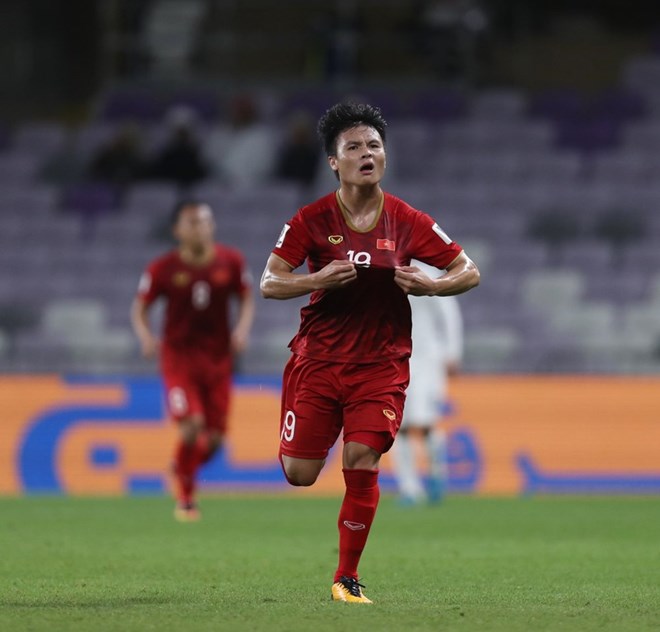 AFF Suzuki Cup 2020 is set to start this weekend. This time, we preview teams on Group B.
Vietnam
There have been only two teams that managed to repeat as tournament champions. Thailand have done it twice (2000 and 2002, 2014 and 2016), Singapore once (2004 and 2007).
The Những Chiến Binh Sao Vàng are the only contingent in this field of ten that reached the third round of the FIFA World Cup qualifiers. This translates to having a busy schedule, logging in ten international matches this year, despite having the V.League 1 and Vietnamese Cup canceled midseason and midtournament, respectively.
Key to Vietnam's string of successes has been head coach Park Hang-seo, who has practically become Midas at this point. Heralding them on the field is 2018 AFF Championship MVP Nguyễn Quang Hải, captain Quế Ngọc Hải, and vice-captains Đỗ Duy Mạnh, Lương Xuân Trường, and Phạm Đức Huy.
With half of the roster composed of the 2018 champion squad, other call ups expected to make a bang include forward Nguyễn Tiến Linh and Đỗ Hùng Dũng. Also included in the lineup are some young turks, such as Nguyễn Thanh Bình, Đỗ Thanh Thịnh, Trần Văn Đạt, and Quan Văn Chuẩn, thus providing continuity to the program.
Malaysia
It already feels like forever when Malaysia won their Suzuki Cup first place trophy more than a decade ago. It also has been a rollercoaster ride, with runner-up finishes in four-year gaps. If the trend continues, this means they would not be playing in the championship round in this edition.
Malaysia is one of the countries fortunate enough to have a relatively full domestic calendar, with the Liga Super Malaysia reaching its conclusion in September and Piala Malaysia finishing this week. Add to that that Harimau Malaya were able to schedule friendlies against Jordan and Uzbekistan in October.
MAS will be bannered by Safawi Rasid and Aidil Zafuan, and would be aided by overseas-based players Luqman Hakim Shamsudin, Dion Cools, Dominic Tan, and Junior Eldstal.
Indonesia
There is no argument that Indonesia has the most passionate fans in the region when it comes to football. However, all of that noise has not translated to titles, as the best finish Tim Garuda has had up to this point is runner-up… five times. That is nearly half as many times the tourney has been held.
In addition, it appears that outside factors continue to rock the team, as the World Anti-Doping Agency declared that Indonesia, along with Thailand, cannot fly their flag until sanctions are lifted. If this has an effect on the players, it would show once they march on the pitch on December 9 against Cambodia.

However, it is not all bad news. One thing going in the archipelago's way is that Liga 1 is back after the previous season was abandoned. This should translate to their local call ups like Evan Dimas, Ramai Rumakiek, and Irfan Jaya being in optimum form.
The Indonesian football federation released a full complement of 30 players, in spite of bringing only 25 in their training camp in Turkey. This is why coach Shin Tae-yong might need to do some tweaking once landing in Singapore, as Egy Maulana Vikri, Asnawi Mangkualam, and Syahrian Abimanyu will be coming in elsewhere — provided they make the plane ride.
Cambodia
Cambodia is one of four remaining countries that have never been to the playoffs. Not much is expected from them, but that makes them dangerous.
The ripple effect of hiring Honda Keisuke as head manager of the men's senior team is still being felt, having made inroads into progressing from minnow to serious contender. They defeated Guam twice in the Asian Cup qualifiers play-off in October, the Angkor Warriors' most recent international experience.
In addition, the domestic league and cup were concluded without much fanfare, ensuring that the entire squad is in tiptop shape. Soeuy Visal, Chrerng Polroth, Sieng Chanthea, and Chan Vathanaka are just some of the names looked upon to make a splash.
Laos
Laos has qualified for the group stage in all but one edition of the regional cup. Despite that consistency, no one has given them a second look.
The only match time local-based players had this year is at the Lao League 1. This is why Pha Lung khao niew would rely heavily on the likes of Billy Ketkeophomiphone, Soukaphone Vongchiengkham, Mitsada Saytaifah, Phoutthasay Khochalern, and Bounphachan Bounkong, all of whom are plying their trade outside of the country.