The Los Angeles Lakers always generate a ton of headlines, but this year that has happened even more as they have added even more names in their list.
Whether it's new names like Russell Westbrook or Carmelo Anthony or familiar faces like Trevor Ariza or Dwight Howard returning home, the Lakers are as star-studded as ever.
Here are the updated list of NBA players that Lakers already signed up since the start of Free Agency: Kendrick Nunn, Carmelo Anthony, Dwight Howard, Trever Ariza, Wayne Ellington, Malik Monk, Kent Bazemore and they re-signed Talen Horton Tucker again.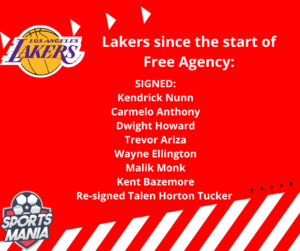 Note that the list is still incomplete until we know the status of Dennis Schroeder. The Lakers can also spend the $5.9 million taxpayers' midlevel exception to add more depth. They can potentially retain Wesley Matthews and Markieff Morris as well.
For now, you already have a good idea of what the kind of team the Lakers is building. Follow Sports Mania to for more updates on what's happening in NBA.