NBA Playoffs 2023: All you need to know about the bracket, times as Nuggets and Suns look to end their series, with the two already reached semifinals, while awaiting for their potential opponents later on.
You can find a lot more sports updates on Sports Mania, and get the best offers from M88 Mansion when you updating news on 2023 NBA Playoffs.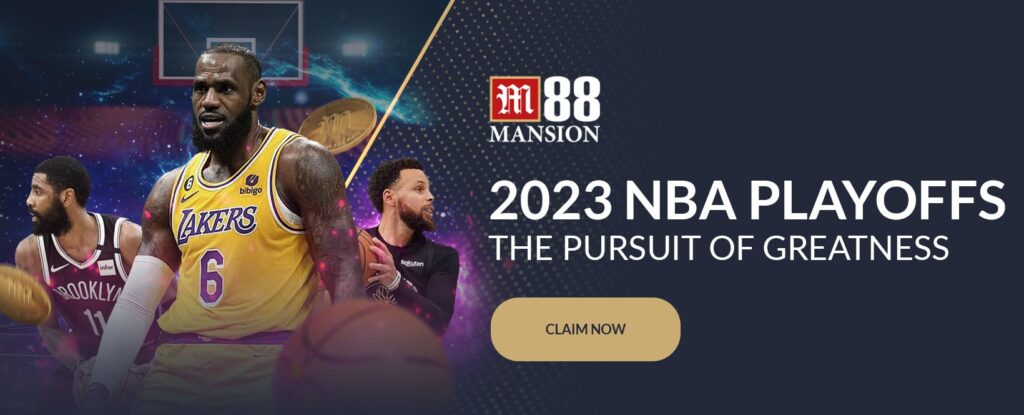 NBA Playoffs 2023
The 2023 NBA playoffs roll on Tuesday night with three potential closeout games.
It was Lebron James who left his marks, turning in his 20-20 game in the playoffs.
The legendary baller turned in a low-key, masterful performance in Game 4:
22 points,
20 rebounds
Seven assists, including the game-tying basket in the final second of regulation that forced overtime.
Lebron's Lakers and Heat, both up 3-1, are in prime position to become the first play-in teams to win a postseason series.
Earlier, Jimmy Butler's 56-point eruption led the Heat to securing a hold on their series with the Bucks.
The 76ers are the only team to have punched their ticket to the second round so far. Philly completed a sweep of the Nets on Saturday without Joel Embiid and await the Celtics-Hawks winner in Round 2.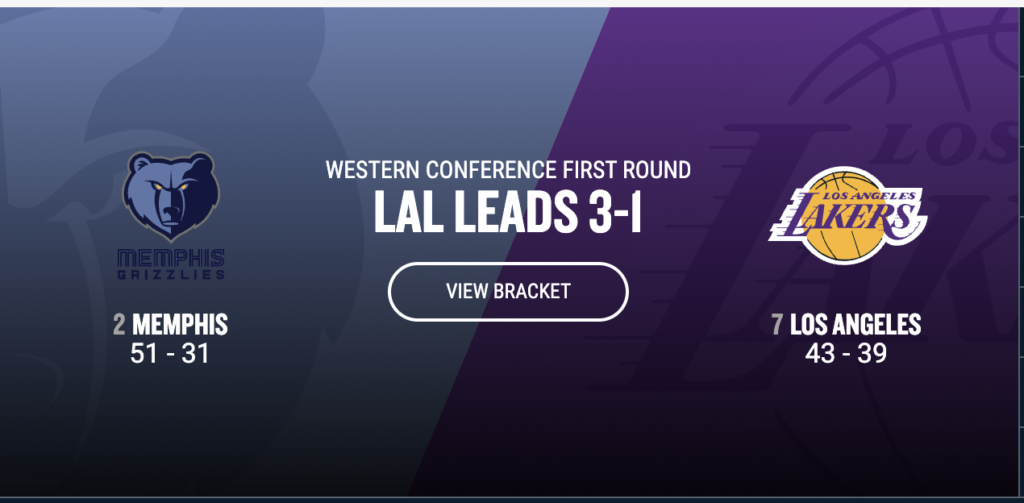 Below is the daily playoff schedule as well as the results that are in so far, the playoff bracket, dates, times.
April 24 Results
Denvers Nuggets 4-1 Minesota Timberwolves
Phoenix Suns 4-1 LA Clippers
Game 4: Heat 119, Bucks 114 (Miami leads 3-1)
Game 4: Lakers 117, Grizzlies 111 OT (Los Angeles leads 3-1)

April 25
Game 5: Hawks at Celtics, 7:30 p.m.(Boston leads 3-1)
Game 5: Timberwolves at Nuggets (Denver leads 3-1)
Game 5: Clippers at Suns, 10 p.m. (Phoenix leads 3-1)
April 26
Game 5: Knicks at Cavaliers, (New York leads 3-1)
Game 5: Lakers at Grizzlies
Game 5: Heat at Bucks
Game 5: Warriors at Kings (Series tied 2-2)
April 27
Game 6: Celtics at Hawks, TBD (if necessary)
Game 6: Nuggets at Timberwolves, TBD (if necessary)
Game 6: Suns at Clippers, TBD (if necessary)
April 27
Game 6: Bucks at Heat, TBD (if necessary)
Game 6: Cavaliers at Knicks, TBD (if necessary)
Game 6: Grizzlies at Lakers, TBD (if necessary)
Game 6: Kings at Warriors, TBD
April 28
Game 7: Hawks at Celtics, TBD (if necessary)
Game 7: Timberwolves at Nuggets, TBD (if necessary)
Game 7: Clippers at Suns, TBD (if necessary)
April 29
Game 7: Heat at Bucks, TBD (if necessary)
Game 7: Knicks at Cavaliers, TBD (if necessary)
Game 7: Lakers at Grizzlies, TBD (if necessary)
Game 7: Warriors at Kings, TBD (if necessary)
NBA playoff results
April 23
Game 4: Knicks 102, Cavaliers 93 (New York leads 3-1)
Game 4: Warriors 126, Kings 125 (Series tied 2-2)
Game 4: Celtics 129, Hawks 121 (Boston leads 3-1)
Game 4: Timberwolves 114, Nuggets 108 (OT) (Denver leads 3-1)
April 22
Game 4: 76ers 96, Nets 88 (Philadelphia wins 4-0)
Game 4: Suns 112, Clippers 100 (Phoenix leads 3-1)
Game 3: Heat 121, Bucks 99 (Miami leads 2-1)
Game 3: Lakers 111, Grizzlies 101 (Los Angeles leads 2-1)
April 21
Game 3: Hawks 130, Celtics 122 (Boston leads 2-1)
Game 3: Knicks 99, Cavaliers 79 (New York leads 2-1)
Game 3: Nuggets 120, Timberwolves 111 (Denver leads 3-0)
April 20
Game 3: 76ers 102, Nets 97 (Philadelphia leads 3-0)
Game 3: Warriors 114, Kings 97 (Sacramento leads 2-1)
Game 3: Suns 129, Clippers 124 (Phoenix leads 2-1)
April 19
Game 2: Grizzlies 103, Lakers 93 (Series tied 1-1)
Game 2: Bucks 138, Heat 122 (Series tied 1-1)
Game 2: Nuggets 122, Wolves 113 (Denver leads 2-0)
April 18
Game 2: Celtics 119, Hawks 106 (Boston leads 2-0)
Game 2: Cavaliers 107, Knicks 90 (Series tied 1-1)
Game 2: Suns 123, Clippers 109 (Series tied 1-1)
April 17
Game 2: 76ers 96, Nets 84 (Philadelphia leads 2-0)
Game 2: Kings 114, Warriors 106 (Sacramento leads 2-0)
April 16
Game 1: Lakers 128, Grizzlies 112 (Los Angeles leads 1-0)
Game 1: Heat 130, Bucks 117 (Miami leads 1-0)
Game 1: Clippers 115, Suns 110 (Los Angeles 1-0)
Game 1: Nuggets 109, Timberwolves 80 (Denver leads 1-0)
April 15
Game 1: 76ers 121, Nets 101 (Philadelphia leads 1-0)
Game 1: Celtics 112, Hawks 99 (Boston leads 1-0)
Game 1: Knicks 101, Cavaliers 97 (New York leads 1-0)
Game 1: Kings 126, Warriors 123 (Sacramento leads 1-0)
April 14 (play-in)
Heat 102, Bulls 91
Timberwolves 120, Thunder 95
April 12 (play-in)
Bulls 109, Raptors 105
Thunder 123, Pelicans 118
April 11 (play-in)
Hawks 116, Heat 105
Lakers 108 Timberwolves 102 (OT)