Luis Díaz has reunited with his father, who was kidnapped in northern Colombia by a unit of a guerrilla group last month and released last week as the Liverpool player could not hold back his joyful tears.
Check out for M88 Mansion's best offers here.
Check out for more sports updates here.
Photographs posted on the Colombian Football Federation's account on X (formerly Twitter), showed the striker and his father, Luis Manuel Díaz Jiménez, hugging each other.
Earlier this week, Lucho – the Colombian striker's father, was shown setting free in a military vehicle and was warmly welcomed by his family and acquaintances.
With the message "Welcome home Luchooo", the federation announced the arrival of the elder Díaz to Barranquilla, where the Colombian national team are to play against Brazil on Thursday.
What happened with Diaz's father
In the event that shocked the whole football world in October, armed men on motorcycles kidnapped Díaz's parents from a gas station in the small town of Barrancas on 28.
His mother, Cilenis Marulanda, was rescued within hours by police who set up roadblocks around the town of 40,000 people, which is near Colombia's border with Venezuela. But the father remained captivated for days after that.
After the kidnapping, special forces were deployed to search for Díaz's father in a mountain range that straddles Colombia and Venezuela. Police also offered a reward for information that led to him.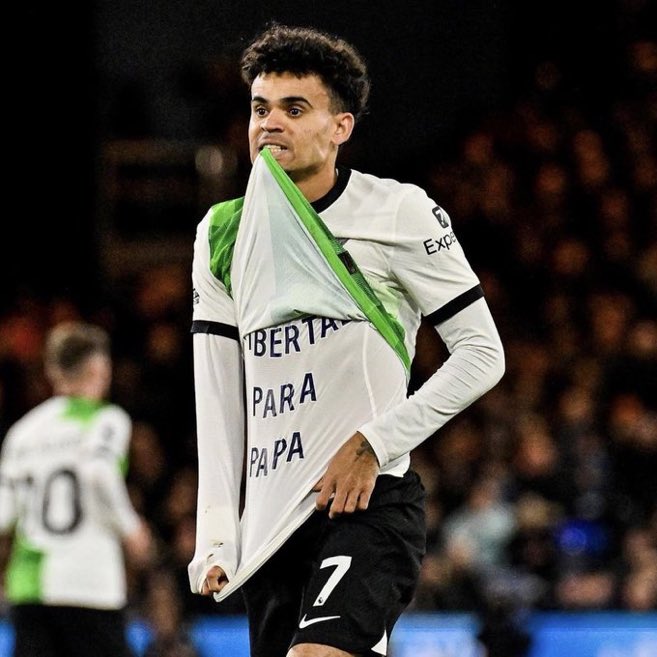 It was initially unclear who carried out the abduction. Colombia's government then announced that it had information that a unit of the National Liberation Army, or ELN, was responsible. The group later acknowledged the kidnapping, saying it was a mistake and that its top leadership had ordered the father's release.

The Liverpool striker took any chance he got, showing the message to the kidnappers 'Free papa' when he celebrated a goal for the Merseyside club.
Díaz's parents were taken amid peace negotiations between Colombia's government and the guerrilla group. Authorities arrested four suspects over the weekend.
Colombia's Ombudsman's Office estimates that between January 2022 and September 2023, armed groups carried out 160 kidnappings and 121 releases.
After Díaz's father was released, the government's peace talks delegation demanded in a statement that the ELN immediately free anyone it still "has in captivity" and end its practice of kidnappings.
"It is unsustainable to argue, from an ethical point of view, that trading with human beings is legal, even under the conditions of an armed conflict," read the statement.