Lionel Messi and Cristiano Ronaldo created one of the most iconic images by competing with each other in a chess game, and the other two GOATs of their world, Drake and J.Cole, made sure the scene went viral in their latest music video.
Messi and Ronaldo's moment was recreated by Drake and J.Cole
Drake and J. Cole competed against each other through chess, table tennis, and basketball in the new music video for First Person Shooter, which dropped Wednesday.
The hip-hop stars recreated a famous picture of soccer GOATs Messi and Ronaldo playing chess, photographed by Annie Leibovitz one year ago as part of their Louis Vuitton paid partnership.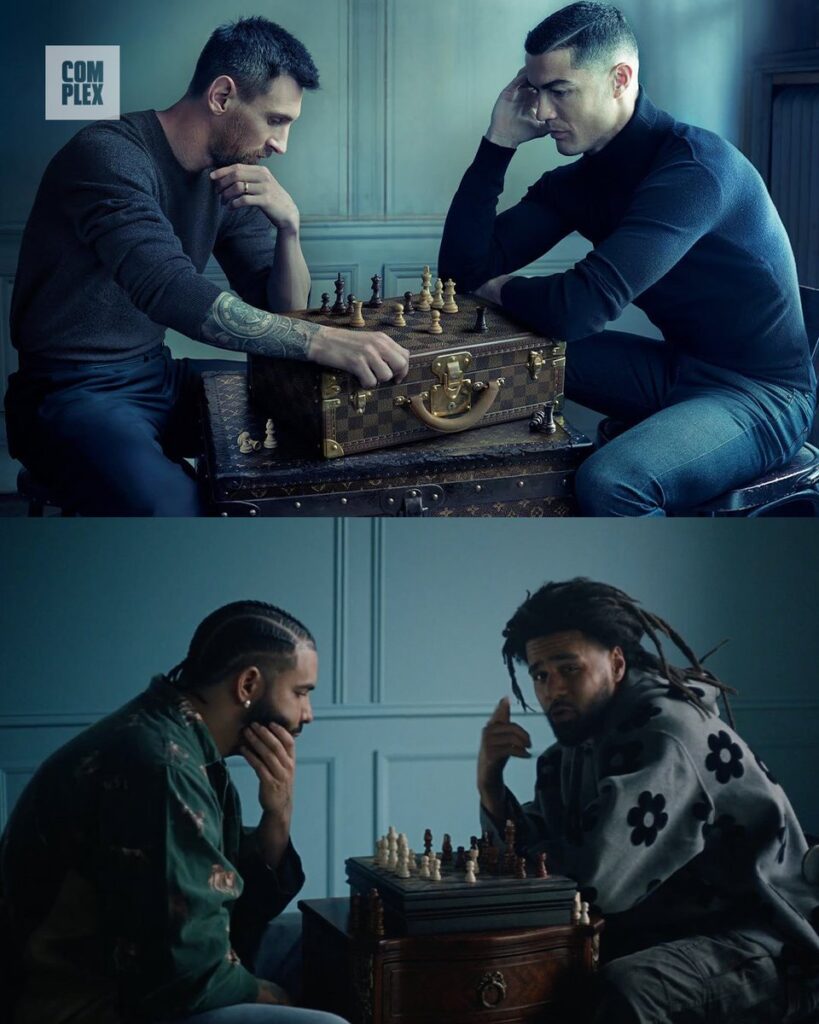 The Canadian 37-year-old and the German-born 38-year-old originally released their US Billboard Hot 100 No. 1 hit collaboration on October 6 off Drake's eighth studio album, For All the Dogs.
Check out M88 Mansion's best offers here.
Check out for more sports updates here.
Drake and J.Cole dropped more Easter eggs in the MV.
It marked the first No. 1 hit for J. (born Jermaine) and the 13th No. 1 hit for Drake (born Aubrey Graham), which tied him with the late Michael Jackson for the most solo number-one songs by a solo male artist. The pair entertained their audiences with many Easter Eggs throughout the video.
And as a tribute to the King of Pop, the five-time Grammy winner donned a silver-sequin glove and socks with black loafers in the video, which you can watch below:
'N****, beat it, n****, beat it, what?' he rapped.
Marvel fans can also relate to the iconic Spidermen scene.

On the wall behind the OVO Sound co-founder's chess match was the album cover drawn by his five-year-old son, Adonis Mahbed Graham.
Drake's CG-filled five-minute music video has already amassed nearly half a million views on YouTube.
First Person Shooter – The details of Drake x J.Cole's latest product
First Person Shooter was directed by Gibson Hazard – who previously helmed videos for Lil Uzi Vert, Metro Boomin, and Lil Nas X.
The music video began with Brian Baumgartner – best known for playing Kevin Malone in the NBC mockumentary sitcom The Office (2005–2013) – playing a game on his computer while 'managing' an office full of dummies.
The 50-year-old Daytime Emmy winner then received a call from the CEO, which turned out to be Drake and J. Cole playing ping pong in an office that magically transformed into a stadium.
The Grammy winner – a shooting guard for Scarborough Shooting Stars last year – showed off his hoop skills while dressed like Spiderman.
Not to be outdone, Drake – who was also dressed like Spiderman – then magically launched the basketball around the Earth before its fiery landing inside the hoop at Scotiabank Arena.