Man United's latest signing Andre Onana yelled at Harry Maguire during the Red Devil's friendly date with Borussia Dortmund in Las Vegas.
Onana later explained why he was caught on camera yelling at the former captain of Man United.
Check out for M88 Mansion best offers here.
Check out for more sports update here.
What happened
The Goalkeeper, who joined the Premier League giants with a £48 million ($62m) transfer, wasted no time making his voice loud and clear at the back of the club's defense.
Onana was unhappy with Maguire's movement, which opened the line up far too easily and forced the Goalkeeper to pull a magnificent one-on-one save.
The 27-year-old makes no apologies for getting on the case of those in front of him – even if they have been at the club considerably longer than he has.
Onana explained the reason
Onana has drawn the reason to light on MUTV as he praised Maguire and stated his honor to be a part of Man United:
"I demand a lot of my teammates because also they demand a lot, they trust in me. They play a lot of balls back to me, so I have to give them confidence and I want my players to give them to me to give me confidence."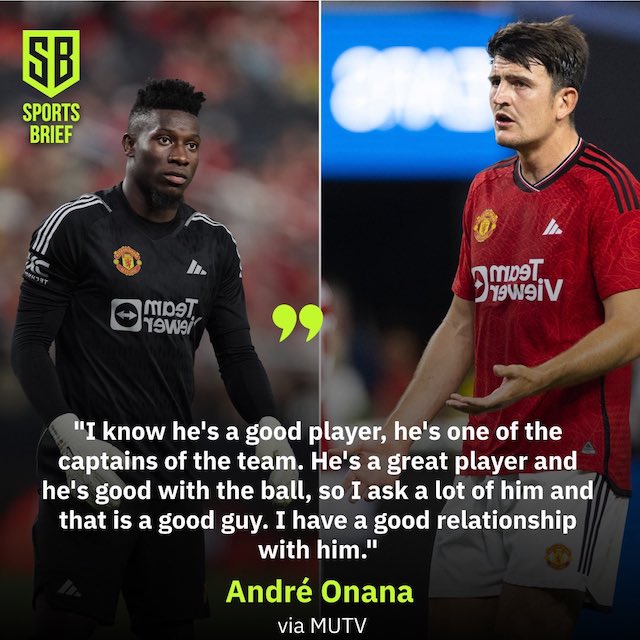 "I demand [from] them a lot and I will demand from them a lot because they are great players. Now, for me, it's a big honour to play with these defenders. With [Lisandro] Martinez, Harry they are doing great things. They are important players for the club. I'm very happy to be part of this team and playing with them is something great."

The former Ajax shot-stopper is known for his unique characteristics and sublime skills. He never shied away from yelling at his teammates, only to get them back on their feet and perform better on the field.
Onana added on his fiery interaction with Maguire, who has been stripped of the captain's armband for 2023-24 as Bruno Fernandes inherits those responsibilities:
"I try to talk to them a lot because I know he's a good player, he is one of the captains of the team. That's big and he is good with the ball, so I would demand [from] him a lot and he's a good, great guy. I have a good relationship with him. I have to be and he has to be ready and I spoke with him because when I'm in the goal, I demand to everyone a lot. I will start with myself because I think we are in this together and mistakes will come.
"We don't have to be afraid to make mistakes because this is part of life and we learn from the mistakes. So we have to be very critical with ourselves. And if we want to win prizes, we have to demand a lot. And for me, it's a big honour to be here and I'm very happy to work with these guys, Harry is a top guy and a fantastic player. We will move on."