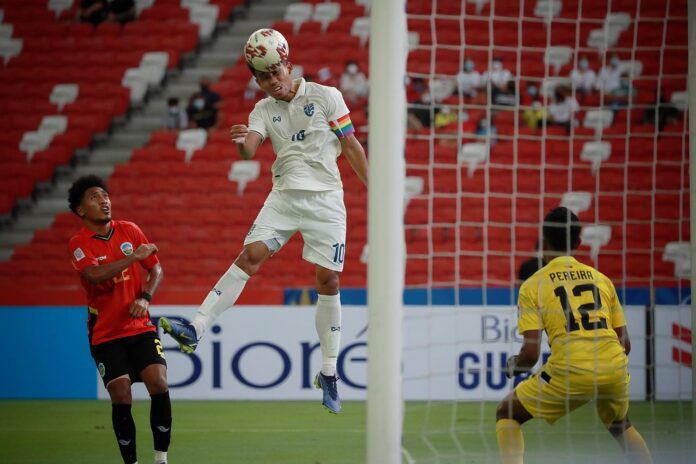 There were no surprises on the first matchday of AFF Suzuki Cup 2020 as the favorites won their respective matches.
Thailand breaks relentless Timor-Leste
Thailand opened the hostilities with a 2-0 win over Timor-Leste.
Pathompol Charoenrattanapirom, who came in as a substitute at the start of the second half, scored at the 51st minute off an assist from Narubadin Weerawatnodom. Supachok Sarachat made it double 30 minutes later, once again the assist coming from Weerawatnodom.
The Timorese held fort with all their might, but like the iced Wall on Game of Thrones, they succumbed to the relentless pressure the Thais gave, possession going in the latter's favor, 76%-24%. The War elephants also had 24 shots, ten on target.
Singapore takes advantage of disarrayed Myanmar
Host Singapore unleashed a scoring spree in the latter part of the first half to put away Myanmar, 3-0.
Safuwan Baharudin opened the floodgates at the 34th minute, but it was Ikhsan Fandi's brace that was completed seven minutes apart that broke the camel's back.
Coming in, the Burmese side had to scamper, as half of the roster was either injured or undergoing health protocols.
Vietnam comes up with clean sheet against Laos
Defending champion Vietnam started off their campaign on a high note by blanking Laos, 2-0.
Nguyễn Công Phượng and Phan Văn Đức contributed a goal apiece to the delight of the crowd that showed up to support their squad.
Malaysia overcomes Cambodia in goalfest
Despite having lesser possession, Malaysia still managed to get past the keeper several times for a 3-1 win against Cambodia.

Safawi Rasid converted a penalty at the 24th minute, the foul inside the box courtesy of Ken Chansopheak. Akhyar Rashid and Kogileswaran Raj then made it 3-0 on the second half.
However, Sath Rosib took one back for the Cambodians, preventing the Malaysians from completing a clean sheet.