Sadio Mane suspended for punching teammate Leroy Sane as the Bayern Munich star will not be part of the matchday squad against TSG Hoffenheim this weekend.
Statement from Bayern: "The reason is Mané's misconduct after FC Bayern's Champions League match at Manchester City."
Find M88 Mansion best offers here.
Click for more sports update here.
What happened
German side Bild reported that there was a big bust-up between Sadio Mané and Leroy Sané after the defeat at Man City during the Champions League quarterfinal first leg.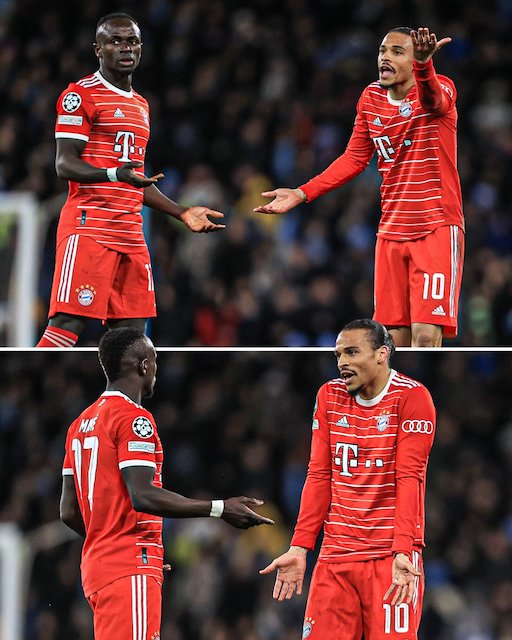 Both had an argument on the pitch. After the final whistle, Mané complained about how Sané spoke to him on the pitch. Suddenly the Senegalese attacked Sané and hit him in the face (on the lip).
There had been no footages or whatsoever regarding the incident, however, Sky Sports revealed that the former Man City winger Sane appeared to hide his lip injury after being punched by Mane.
Sadio Mane suspended for punching Leroy Sane – What's next?
The former Liverpool forward joined the team's latest training and things look to have been already settled. However, it may be worse than it appears to be seen.
According to sources close to the Bavarian club, Bayern team were shocked by what happened.
Several players are critical of Mané and don't expect him to be at the club for long.

Per Bild, Sané asked the club not to sack his team-mate and not to give him a severe punishment. For the German international, the topic is now close.
Did Mane apologize? What really cause his reaction?
Meanwhile, other sources pinpointed the real reason for such reaction from Mane.
African journalist @billmahmuud revealed that Sané called Mané "Black s**t", which made the Senegalese react with anger.
Sané was said to have regretted what he said after the clash. Mané apologized to his teammates for the incident. His future at Bayern, is believed to not be in jeopardy.