Indonesia coach Shin Tae-yong was not satisfied with the quality of My Dinh National Stadium pitch in the return meeting of AFF Mitsubishi 2023 semifinal.
AFF Mitsubishi 2022 – Indonesia coach blames pitch after losing again to Vietnam in the second leg of the AFF Cup semifinals on Monday, marking the first defeat ever in almost 30 years of clashing.
AFF Mitsubishi 2022 – Indonesia coach blames pitch- What did Shin Tae Yong said?
Coach Shin Tae-yong said that the quality of the pitch played a part in the underperforming game as Indonesia lost by two goals with Nguyen Tien Linh's brace.
However, he did admit that Vietnam was strong, despite stating that Vietnam went this far with a clean sheet because facing all week opponents from the group stage.
"Congratulations Vietnam for another clean sheet," he told the post-match press conference. "They played well today, and they really are a strong team."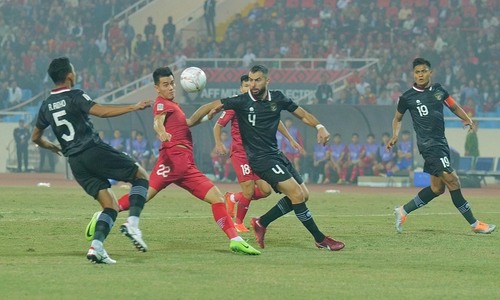 "It's true that we didn't play as well as at the first leg at Bung Karno," Shin said.
"But Vietnam are used to playing at My Dinh and Indonesia are not. The pitch today was not as good as the ones we played at during the SEA Games 31. This is one of the reasons we didn't play up to our expectations."
There were actually tons of comparisons and complaints, even from Vietnam's football fans about the pitch's quality. It is true that My Dinh's pitch is no where near the quality of Bung Karno, where the pair played the first leg of AFF Mitsubishi 2022 semifinal.
The 52-year-old coach apologized to Indonesian fans for failing to win the tournament.
Two early goals in the first and second half by Nguyen Tien Linh gave Vietnam the win. Indonesia failed to create any real scoring opportunities throughout the entire game.
Shin refused to comment on the difference between Indonesia and Vietnam because he said he needed "to analyze the video of the game to get the most accurate perspective."

With the 0-2 defeat, Indonesia haven't won against Vietnam in nine encounters at the national and U23 levels over the past five years.
Beating Indonesia, Vietnam now advanced to the final where Thailand or Malaysia awaiting.